Discover your Learning Styles - Graphically!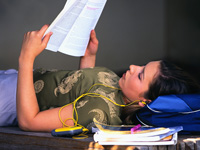 Learning-styles-online.com provides free information and tools to help you understand and use learning styles effectively.
Learning styles are a way to help improve your quality of learning. By understanding your own personal styles, you can adapt the learning process and techniques you use. This site is dedicated to helping you better understand learning styles, as well as providing an easy way to discover your own styles.
New to learning styles?
Key pages we suggest you visit:
Overview of Learning Styles. Understand what learning styles are and the basis for styles.
Try the free learning styles inventory (test). Answer 70 questions to gain an understanding of your own personal styles. This is the web's only free learning styles test with a graphical result page! Over 1 million people have completed this test.
See detailed information on each of the learning styles:
Returning Users
Inventory Log in. Log in to the Learning Styles Inventory to review your results or manage your profile.
Upcoming features
In the next few months, we'll be adding new features such as:
Problems and Solutions. Learning styles are useful however they've also been the subject of much hype. This information will help you make the most of this approach.
Updates to the online test. New features for the online learning styles test.
...and more. More information to help use styles well. If you have ideas or suggestions, please feel free to contact us.
© Advanogy.com 2023 - All rights reserved.